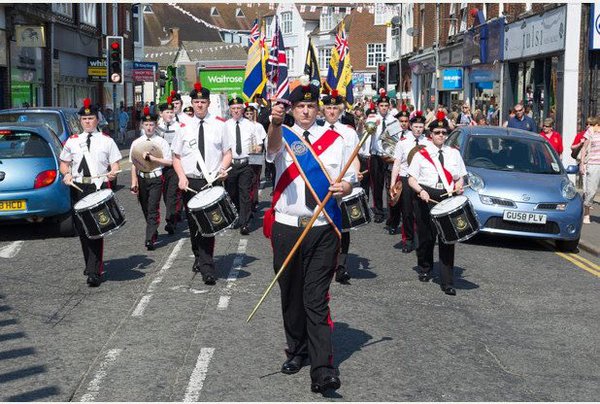 Recruitment Poster 2022.2
Formed in 1981 The Redhill Corps of Drums & Band is a local Marching and Concert Band based in Redhill, Surrey.
As well as taking part in Contests at the Royal Albert Hall and the NEC, the Band has appeared in the Birmingham International Tattoo at the National Indoor Arena and the Lord Mayor of London's Show as part of the National Youth Marching Band. The Band has also performed in Germany, France, Belgium, Holland, Luxembourg and Italy.
The Band is a founder member of The Reigate & Banstead Twinning Association and is affiliated to the Horley Branch of the Royal British Legion.
The Band is always looking for new members of all ages and abilities. Players of any standard and non-players are welcome as we can teach you how to play an instrument, read music and march. We meet as follows:
Wednesday 6.30pm to 9.00pm at Edmonds Hall, Albert Rooms, Albert Road, Horley RH6 7HZ
Sunday 10.30am to 12.30pm at Monotype/Perrywood Sports & Social Club, Honeycrock Lane, Salfords RH1 5JP
For more information about joining the Band please complete the form on the 'Joining Us' page, send to us and we will get back to you as soon as possible.